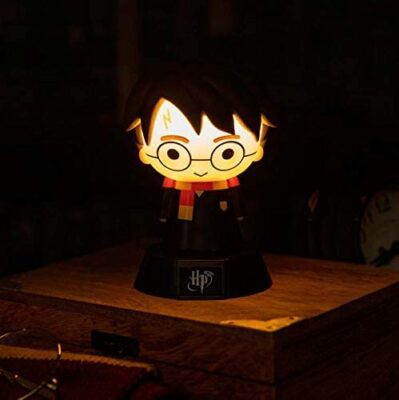 LUMOS: Keep a wizard by your side and adventure with Harry to defeat Voldemort with the Boy Who Lived icon light. He will add light to your space and bring a smile to your face

A MAGICAL FIGURE: Harry stands ready for action and casts a mysterious glow with 2 AAA batteries and his own brand of magic. Similar in style to a bobble head design, he stands just 10 cm tall

HARRY POTTER NIGHT LIGHT: This nightlight is perfect for children, teens or adults. Add this item to your man cave, bedroom, baby nursery, toddler's play room, or themed home theater

ACCIO MERCHANDISE: If you're a fan of Hogwarts and of the boy with the scar and glasses, this official Harry Potter item is for you! It's made for any witch or wizard who loves the books and movies

NOVEL AND ORIGINAL: For those in the fandom looking for novelty items and all things geek, crazy, and unique, Paladone is your best source for top-selling toys, mugs, collectibles, and novelties

A cute and collectable Icon Light featuring magical boy-wizard Harry Potter.

The Harry Potter Icon Light is the perfect piece of Potter memorabilia, whether on its own or as part of the full Harry Potter themed Icon Light collection.

A mini 3D light thats ideal for desktops, shelves or bedside tables, the Harry Potter Icon Light stands at 10cm tall (4in) and is battery powered by 2 x AAA batteries (not included).

A great gift for Harry Potter fans, the Harry Potter Icon Light is an officially licensed Harry Potter product.

This product is made using BDP™ which stands for Breakdown Plastic – an organic additive that helps plastic decompose at landfill without affecting either its structural integrity (before landfill) or the recyclability of the product.